KNOW ALL ABOUT DENTAL VENEERS
If you have broken or chipped front teeth or there is some spacing between your front teeth, dental veneers are for you! Dental veneers can help you achieve the desired looks of teeth you always wanted. Dental veneers are thin and delicate shells which are specially designed and made according to particular person s teeth. They are custom designed and then fixed on to front surface of teeth with special adhesives and bonding agents.
WHEN TO GET DENTAL VENEERS ?
Dental veneers are done in following situations: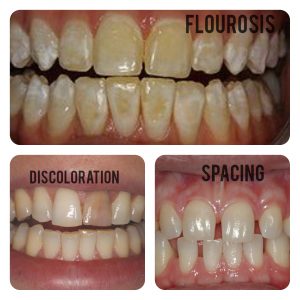 Broken or chipped teeth
Malshaped teeth
Discolouration on front surfaces of teeth
Uneven spacing between front teeth
Types of veneers
Depending on the type of material by which they are made of, veneers are mainly of two types:
1.composite veneers- are made of composite and can be done in single visit.
2.porcelain veneers- are made up of porcelain and require two to three visits to the dentist.
PORCELAIN VENEERS
Porcelain veneers are made of tooth coloured and strong porcelain material.
In first dental visit, dentist evaluates the patient`s smile and plans the whole treatment after evaluating all dental problems like caries and health of gum tissues. Study models are made and x rays are done , if required.
The front surface of all front teeth are reduced and very minimal amount of front teeth enamel is removed and space for veneer is created. Dentist then takes the impressions of teeth and sends it to the laboratory for fabrication of veneers. Proper shade selection of tooth is done before sending to the labratory.
In third visit, veneers are fixed on the teeth with an adhesive.


COMPOSITE VENEERS

Composite veneers are made of resin material. Dentist usually removes a small layer of enamel from front surface of tooth and builds up the front surface with a new aesthetic material on the same day. This is polished and smoothened and the treatment is complete in same day. The result of composite veneers is fast and quiet gratifying because less time is required.
PROS AND CONS OF PORCELAIN AND COMPOSITE VENEERS
1. Porcelain veneers are more resistant to chipping or breakage.
2. Porcelain is more aesthetic than composite veneers.
3. Porcelain veneer doesn t stain easily as compared to composite veneers.
4. But porcelain veneers requires multiple dental visits but composite veneers require fewer visits to the dentist.
5. Cost of porcelain veneers is quiet higher than those of composite veneers.
AT HOME INSTRUCTIONS AFTER VENEERS
1.Patient is usually instructed to maintain good hygiene by brushing the teeth at least twice daily. Excessive intake of tea and coffee should be avoided in composite veneers.
2.Patient is instructed not to bite on something unduly hard and not to engage in any para functional habits like opening bottles from teeth or keeping some metallic objects in mouth. Porcelain tends to fracture with heavy forces so one should take good precautions after veneering.
3.Regular dental checkups are important to check for overall function and any kind of dental or gum problems..
4.Patients who have habit of grinding teeth or bruxism have to stake special care due to high biting forces in their mouths.
Dental veneers is an extremely aesthetic dental treatment which can change your smile drastically and improve the self confidence and boost your self esteem by giving you a vibrant smile.